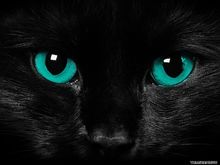 The eyes of a cat are windows to your soul. They can see other dimensions, they can see your aura, and what's wrong with you. A cat knows when you are happy, when you are in bad health, when you are troubled, or when you are hungry. He knows when you are feeling magnanimous, and he knows when you are about to die. It's fortunate that cats can't talk, because you have a lot of secrets.
The cat knows.
Ad blocker interference detected!
Wikia is a free-to-use site that makes money from advertising. We have a modified experience for viewers using ad blockers

Wikia is not accessible if you've made further modifications. Remove the custom ad blocker rule(s) and the page will load as expected.