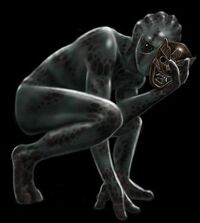 Legend has it that if you come face to face with your doppelganger, it's an omen or warning of death — for both you and your twin. Because of this, if you see a replica of yourself, run for your life. If you keep seeing your doppelganger, chances are that your days are numbered, because you'll soon see your demise.
There are many stories regarding encounters with doppelgangers, none of them pleasant. Often, a person does not actually see their own doppelganger, but someone else does. Can you be two places at once?
No, but it's a very strange feeling when someone who knows you very well insists that they saw you just thirty minutes ago — and you were nowhere in the vicinity. Imagine this happening time and time again and you'll soon go insane.
Hence, the myth that a doppelganger will precede the arrival of the real person. Many stories explaining their experiences with these apparitions have this in common. Perhaps he's one step ahead of you?
Ad blocker interference detected!
Wikia is a free-to-use site that makes money from advertising. We have a modified experience for viewers using ad blockers

Wikia is not accessible if you've made further modifications. Remove the custom ad blocker rule(s) and the page will load as expected.