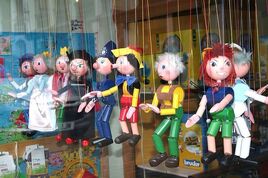 I used to be a skeptic, but now I see things more clearly. Your reality is exactly how it appears to you. Your brain controls your reality, but who controls your brain? Do you?
False. There are two schools of thought.
Either way, we all perceive people in a different manner. Me? Well people are strange. Why are people strange? Here's a theory.
We are all controlled by a single being. Think of the video game The Sims. We control everything that happens in that game within our own characters. Who controls the NPCs? Our game's subconscious. That's why sometimes your house will be robbed if you are rich. If you don't pay the rent, the bank comes and steals your shit.
In the time it took you to read this, I had already left you a surprise in the mail. It's your own person. Have fun controlling your own world now, sentient. It's yours to do what you want with it.
This world I left you is called Earth.
Ad blocker interference detected!
Wikia is a free-to-use site that makes money from advertising. We have a modified experience for viewers using ad blockers

Wikia is not accessible if you've made further modifications. Remove the custom ad blocker rule(s) and the page will load as expected.